Pursuer

HP
3110 (Standard Game), 7001 (NG+)
Weakness
?
Resistance
?
Respawns
YES
Pursuer is an enemy in Dark Souls 2.
Pursuer Information
The Pursuer is a boss in Dark Souls 2. A giant, aggressive knight that relentlessly "pursues" the player. Heavily armored in black, it wields the Pursuer's Ultra Greatsword with a corresponding "heavy hitter" moveset. He can move very quickly for such a large enemy, and can, in particular, close rapidly on the player from a distance. Can be encountered in multiple locations if playing SotFS. After the main boss fight in Forest of Fallen Giants, these secondary encounters are not explicit boss fights, and do not grant as many souls as the first encounter. In addition, it will already be in it's powered-up "curse" mode, allowing it to use its powerful Dark Magic attack. In NG+, the Pursuer will appear more regularly.
The Pursuer lurks in Drangleic. He seeks the bearer of the sign and will not rest until his target is slain.
Location
Drops
Souls: 17,000 (Standard Game) 34,000 (NG+)
Souls Awarded
| | |
| --- | --- |
| Bonfire Intensity | Souls Awarded |
| 1 | 17,000 |
| 2 | 34,000 |
| 3 | 42,500 |
| 4 | 46,750 |
| 5 | 51,000 |
| 6 | 55,250 |
| 7 | 26.500 |
| 8 | 68,000 |
No changes to souls awarded beyond Bonfire Intensity 8.
Strategy Tips
Note: Ballista rounds CAN kill friendly phantoms or the host!
Depending on your level and gear, this will be a long fight. This levitating armored titan is both fast and powerful. He will float after you and tends to use a 1, 2, 3 combo with his long sword and shield, however the last attack of his combo will vary depending on how close the player is to him. One of which is a simple over head sword slam relatively easy to dodge for those who have a good dodge-roll or are great with timing attacks. The other option however is a sweeping horizontal slash where he floats forward while doing it. This is far more devastating, the attack is faster and covers a much wider area than one originally anticipates. This attack also when in connects sends those with lower poise flying. The Pursuer also has a magic blade spell, when you see his blade glow blue get away. He will perform rather short stab maneuver but if it connects you'll be hurtin' as it does a lot of damage you will also be cursed reducing health requiring a human effigy to return to normal. If he lands his attack and curses you he will start to smoke and he will now use dark magic. As a special aside the magic energy will not entirely dissipate right after the attack, so be wary of his next slash if the magic stab misses.



Ballista Strategies

Parry: Parry the Pursuer's attack (I found the buckler very easy to parry him with, due to it's long parry animation), which causes him to be stunned for a bit; then shoot one of the ballista at him. In order to do this you must parry him while he is in line of fire of one of the ballista, then run to activate the ballista, and fire. The ballista does a huge amount of damage and can almost one shot the pursuer. Be careful though as he can destroy them.
Co-op: Another strategy is within Co-op play. Either you or a phantom may be targeted by the pursuer and distract him while the other player shoots the ballista at the pursuer dealing mass damage, or killing the boss. Careful, Ballista rounds CAN kill friendly phantoms or the host!
Dodge: When initially entering the pursuers boss area, wait for him to walk towards you. When he is far enough he will pull his sword back then do a charge swing. Dodge to the RIGHT (you can get clipped if you roll to the left). Then immediately sprint to the ballista on the left, and fire it as soon as you get to it. If it lands he'll be low enough to easily finish off (don't rush it, he will punish you if you try to kill him too fast).
Note: Ballista damage has been drastically reduced as of 1.10. They now take slightly less than half health. For this reason, it is advised you quickly realign the Pursuer with the ballista after firing, parry him again, and fire again, then follow with regular attacks.



Mage Strategy

Equip Great Heavy Soul Arrow and Great Soul Arrow. Upon entering the arena, you can lock on and get of 4 arrows before you need to dodge. Dodge to the right as his swing comes from the left. After each dodge, let an arrow go. You need high stamina for this. Keep rolling backwards using the length of the arena to your advantage. Walking towards him and dodging backwards as he is about to attack seems easiest. At the end of the arena, always dodge right.
Move Set
Overhead Swing
Shield Bash
Impale
Three Stabs Combo
Crescent Shockwave
Charge
Dark Magic
Shield Stab
Tips
The Pursuer can be poisoned but has a really high Poison Resistance, anywhere from 7-10 poison arrows will usually inflict poison onto him. (Confirmed in Iron Keep fight)
He can be poisoned before he exits his spawn animation in Iron Keep. (It took 4 lb hits with power stanced poison ceastuses, which I had more than enough time to do)
When he does the Overhead swing, it is best to roll towards him. By doing so will allow you to land two hits after he misses.
Be sure to have enough stamina to block his attacks or to dodge it. Having the Chloranthy Ring helps as well.
His Charge Attack can be easily dodged to the left or the right, depending on whether he attacks with his sword or his shield. Move in for a couple strikes and back up to bait the attack again.
The pursuer is vulnerable to lightning attacks such as lightning spear and weapons buffed with gold pine resin.
Pursuer also has a move which releases homing dark magic which can inflict curse (Triggered by Pursuer landing the unblockable impale move).
His Charge attack and his standard slashes (basically the first of his combos) can be parried making him stunned for few seconds.
The Impale attack seems to have a limited range, you may seem like you'll get hit with it at the end of the animation but the sword will not touch you or do any damage (cannot confirm if this applies to all encounters, it was tested on the Iron Keep fight)
The Pursuer is easy to parry. Each successful parry will stun him for several seconds, giving you ample time to attack, recover stamina, or heal. Be wary though that you can't parry his cursed stab or shield bash.

Video Strategies: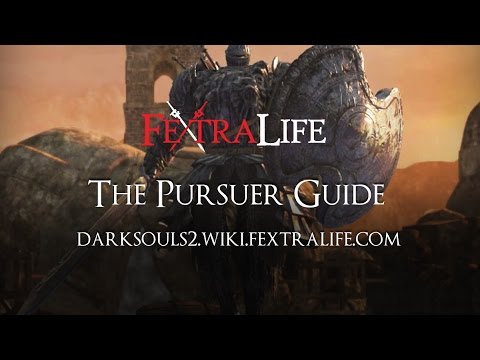 Notes
The Pursuer may be a homage to From Software's other series, Armored Core. This is best seen in the encounter of two pursuers in drangleic castle, which is similar to an encounter with Nine-Ball in Armored Core: Masters of Arena. Another homage to the Armored Core series is seen with the first encounter with the Pursuer. When he arrives, he is dropped from the air by a large bird, and proceeds to hover after retrieving his weapon. This is a reference to when enemy ACs appear in a mission in Armored Core (they are dropped from the air by large helicopters and planes, and they often strike a "hovering pose" at the end of their introduction cutscene).
The Pursuer is known for being a Credo clone, confirmed by gamemaker Hiroshima Takatsu. Credo refers to Angelo Credo from Devil May Cry 4 (single shield, single sword, both use flying/gliding attacks)* Please see the comments section
Rumors speculate that The Pursuer is also a reference to the Chosen Undead from Dark Souls I, based upon his arrival to the first two fights by a bird (similar to the Chosen Undeads arrival to Lordran by Snuggly the Crow), the collection of weapons on his back used in Dark Souls I, and his ability to return from the dead much like the player. Feeling threatened by the new Chosen Undeads rise to power in Drangleic, this also explains his determination to stop the player from becoming the new monarch.