"A trident wielded by an old sorcerer. The tip is sharpened so smoothly that it suggests a degree of madness.
Use strong attack to perform a power channeling dance, the madness of which boosts the morale of nearby allies.
Effect: attack boost (Two-handed strong attack)"
Weapon Type:
Spears
Critical:
130
Weight:
4.0
Attack Type:
Thrust
Auxiliary:
-
Durability:
40
Left Hand:
Enchantable:
Yes
Special Attack:
Yes
Acquired From

Dyna and Tillo's crow nest by giving them a Petrified Something (Common), Smooth & Silky Stone (Rare) or Small Smooth & Silky Stone (Very Rare).

Hints and Tips:
Two-Handed Strong Attack's boost:
Seems to do a 25% damage boost. (tested with the Trident)

Seems to do a 5% damage boost to lightning miracles. (tested with Great Lightning Spear and Sunlight Spear)

Does affect Sorceries and Hexes.

Affects all nearby allies.

Uses 10 durability.

The boost lasts about 15 seconds.
Shows up as a faint orange sparkle/glow on affected players.

Only triggers near the end of the dance.

You can cancel the dance in the early frames with a roll, but no boost will occur even though you lose durability.

One-Handed Strong Attack:
The tip of the trident spins while hitting an opponent, hitting them three times. (effectively hitting them for three times the damage)
Works well with poison and bleed, especially if paired with Sanctum Soldier Gauntlets + Crest of the Rat or Shadow Gauntlets + Crest of Blood depending on the auxiliary infusion you picked.
Be warned that this attack is quite susceptible to being parried, and can potentially be parried and hit the opponent once or twice at the same time. (I once killed a player and got parried by him in the same single attack. He fell over dead as I sat motionless on the ground)
Has remarkably good directional control and can be used to hit opponents who roll to your side.

Rolling Attacks:
Both the one-handed and two-handed rolling attacks will also cause the head to spin and hit the target three times.
The one-handed rolling attack deals less damage and costs less stamina (minus the roll cost) than the one-handed R2.
Think of the one-handed rolling attack as the lighter longer-ranged version of the one-handed R2.
Works well with poison and bleed.

PvP
The two-handed buff will affect friendly mobs in the Grave of Saints and in the Door of Pharos if you are in the Rat King Covenant.
Infusing this weapon with poison and using the one-handed R2 stacks poison extremely effectively- especially so when combined with the Rat Covenant Ring.
Pairing this weapon with the Stone Ring is highly recommended, as it will eat through an opponent's stamina very quickly if they are blocking with a shield.
Pairing this weapon with the Bracing Knuckle Ring is recommended because it has very low durability, and using the one-handed R2 attack will deplete durability quickly.
Using the buff dance is very risky and only gives a small, temporary damage increase while decreasing the weapon's durability. Only use the dance if you are in a place where it will not get interrupted, and in a place where allies will receive benefit.
This weapon might be more effective if used as a poker in the left hand; using the one-handed R2 with its long range has little risk of counter-attack- give it a try! (Thanks for the tip. This strategy worked well to help me get Bleed build-up on opponents, especially when the weapon in my right hand also caused bleeding.)
While not technically beneficial, the two-handed R2 makes for a very satisfying goofy victory taunt, especially when combined with silly armour.

Upgrade Cost: 710 Souls and Titanite Shards, Large, Chunks, Slab .
Youtube relevant videos:
Channeler's Trident effect on Sorceries and Hexes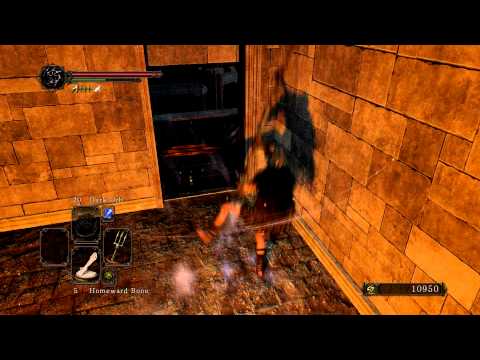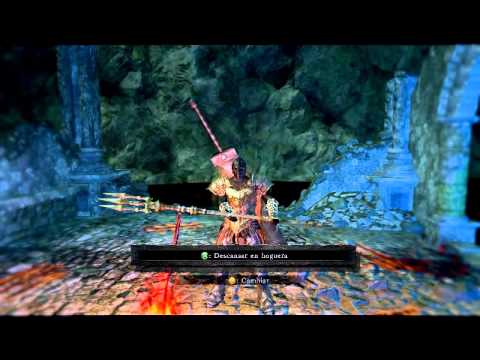 Required in Build:
---
| Requirements | Strength | Dexterity | Intelligence | Faith |
| --- | --- | --- | --- | --- |
| | 11 | 15 | - | - |
Attack Values

Bonus

Parameter Bonus

Auxiliary Effects

Damage Reduction (%)

Other

Name

Channeler's Trident
130
-
-
-
130/20
E
C
-
-
-
-
40
10
30
30
30
25
Channeler's Trident +1
-
-
-
-
-
-
-
-
-
-
-
-
-
-
-
-
Channeler's Trident +2
-
-
-
-
-
-
-
-
-
-
-
-
-
-
-
-
Channeler's Trident +3
-
-
-
-
-
-
-
-
-
-
-
-
-
-
-
-
Channeler's Trident +4
-
-
-
-
-
-
-
-
-
-
-
-
-
-
-
-
Channeler's Trident +8
234
-
-
-
130/20
E
C
-
-
-
-
40
10
30
30
30
25
Channeler's Trident +9
-
-
-
Channeler's Trident +10
260
-
-
-
130/20
E
C
40
10
30
30
30
25
Poison
-
-
-
-
-
-
-
-
-
-
-
-
-
-
-
-
Poison +6
-
-
-
-
-
-
-
-
-
-
-
-
-
-
-
-
Poison +10
182
-
-
-
130/20
E
D
-
-
140
-
37.9
7.9
27.9
27.9
27.9
25
Lightning
-
-
-
-
-
-
-
-
-
-
-
-
-
-
-
-
Lightning +6
-
-
-
-
-
-
-
-
-
-
-
-
-
-
-
-
Lightning +10
182
-
-
182
-
E
D
-
-
B
-
-
37.9
7.9
27.9
46.6
27.9
25
Raw
-
-
-
-
-
-
-
-
-
-
-
-
-
-
-
-
Raw +6
-
-
-
-
-
-
-
-
-
-
-
-
-
-
-
-
Raw +10
299
-
-
-
-
E
E
-
-
-
-
40
10
30
30
30
25
Magic
-
-
-
-
-
-
-
-
-
-
-
-
-
-
-
-
Magic +6
-
-
-
-
-
-
-
-
-
-
-
-
-
-
-
-
Magic +10
182
182
-
-
-
E
D
B
-
-
-
37.9
26.6
27.9
27.9
27.9
25
Enchanted
-
-
-
-
-
-
-
-
-
-
-
-
-
-
-
-
Enchanted+6
-
-
-
-
-
-
-
-
-
-
-
-
-
-
-
-
Enchanted+10
-
-
-
-
-
-
-
-
-
-
-
-
-
-
-
-
Bleed
-
-
-
-
-
-
-
-
-
-
-
-
-
-
-
-
Bleed+6
-
-
-
-
-
-
-
-
-
-
-
-
-
-
-
-
Bleed +10
182
-
-
-
130/20
E
D
-
-
-
140
37.9
7.9
27.9
27.9
27.9
25
Dark
-
-
-
-
-
-
-
-
-
-
-
-
-
-
-
-
Dark+6
-
-
-
-
-
-
-
-
-
-
-
-
-
-
-
-
Dark+10
-
-
-
-
-
-
-
-
-
-
-
-
-
-
-
-
Fire
-
-
-
-
-
-
-
-
-
-
-
-
-
-
-
-
Fire+6
-
-
-
-
-
-
-
-
-
-
-
-
-
-
-
-
Fire+10
182
-
182
-
-
E
D
-
B
-
-
37.9
7.9
46.6
27.9
27.9
25